Niektoré bicykle sú tvarom rámu tak typické, že ich rozoznáme už na prvý pohľad. Presne to je prípad biku Ghost Lector. Akú výbavu má najdostupnejšia karbónová verzia?
Ako prvá vás na pohľad zaujme výrazne tvarovaná zadná stavba, ktorá využíva technológiu listového pera. Vďaka tomu lepšie pohlcuje vibrácie. Robustný rám, ktorý je určený na náročné XC a maratóny, má vnútorné vedenie bowdenov.
Geometria SuperFit® zahŕňa okrem iného 68° hlavový uhol.
Vidlica má zdvih 120 mm (L - XL) a 12-rýchlostný prevodový systém je už u takýchto bicyklov štandard. Ghost Lector Base vo veľkosti "L" si poskladáme v unboxingu.
Špecifikácia
Rám: LECTOR LC
Vidlica: RockShox Recon Gold RL, lockout z riadidiel, zdvih 100 mm (veľ. XS - M) resp. 120 mm (veľ. L - XL)
Prehadzovačka: SRAM SX Eagle 12-rýchl.
Kľuky: Truvativ Stylo 6K 32 zubov
Stredové zloženie: SRAM Pressfit
Kazeta: SRAM PG-1210 11-50
Reťaz: SRAM SX Eagle
Brzdy: Formula Cura 2, kotúče: 180/160 mm
Hlavové zloženie: Acros Blocklock AZX-220-R4, s ochranou proti pretočeniu riadidiel
Riadidlá: Ground Fiftyone, priemer 31,8 mm, šírka: 700 mm (XS), 720 mm (S), 740 mm (M - L), 760 mm (XL)
Gripy: WTB Trail II
Predstavec: Ground Fiftyone, priemer 31,8 mm
Sedlovka: GND 51 Carbon, priemer 34,9 mm, dĺžka 400 mm
Sedlo: Selle Italia SLS
Ráfiky: WTB ST Light i25 / WTB ST Light i25, tubeless ready
Plášť predný: Schwalbe Racing Ralph Performance 29x2,25
Plášť zadný: Schwalbe Racing Ralph Performance 29x2,25
Brzdové páky: Formula Cura
Náboje: Shimano HB-MT410-B 15x110 mm / Shimano FH-MT400-B 12x148 mm
Geometria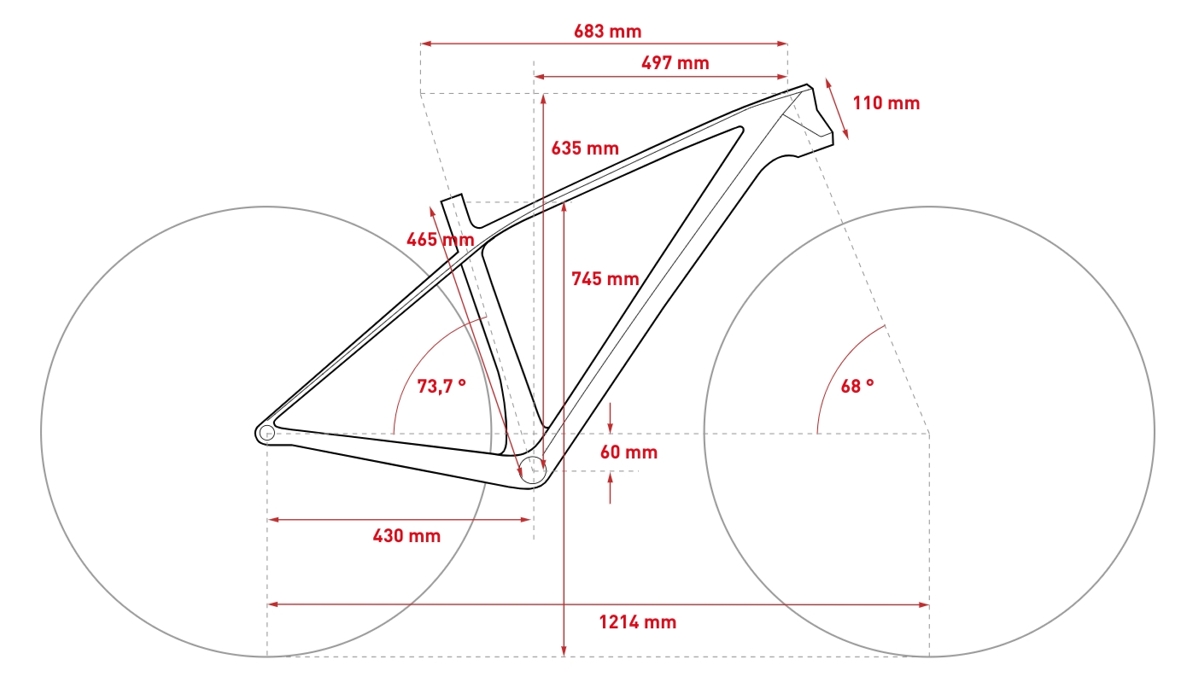 Unboxing
V krabici je všetko upevnené a chránené proti poškriabaniu a nechcenému pohybu.
Na začiatok zložíme sedlo a sedlovku, aby bolo ako uchytiť bicykel do montážneho stojana.
Sedlovka GND 51 je vyrobená z karbónu, má priemer 34,9 mm a dĺžku 400 mm.
Sedlo pochádza od Selle Italia, označené ako SLS.
Kabeláž je vedená v prelise spodnej rámovej rúry, vďaka čomu nemusíte pri servise alebo výmene nič rozpájať.
Je ľahko prístupná vďaka demontovateľnému krytu,
ktorý zároveň slúži aj ako chránič spodnej rámovej rúrky pred odskakujúcimi kameňmi.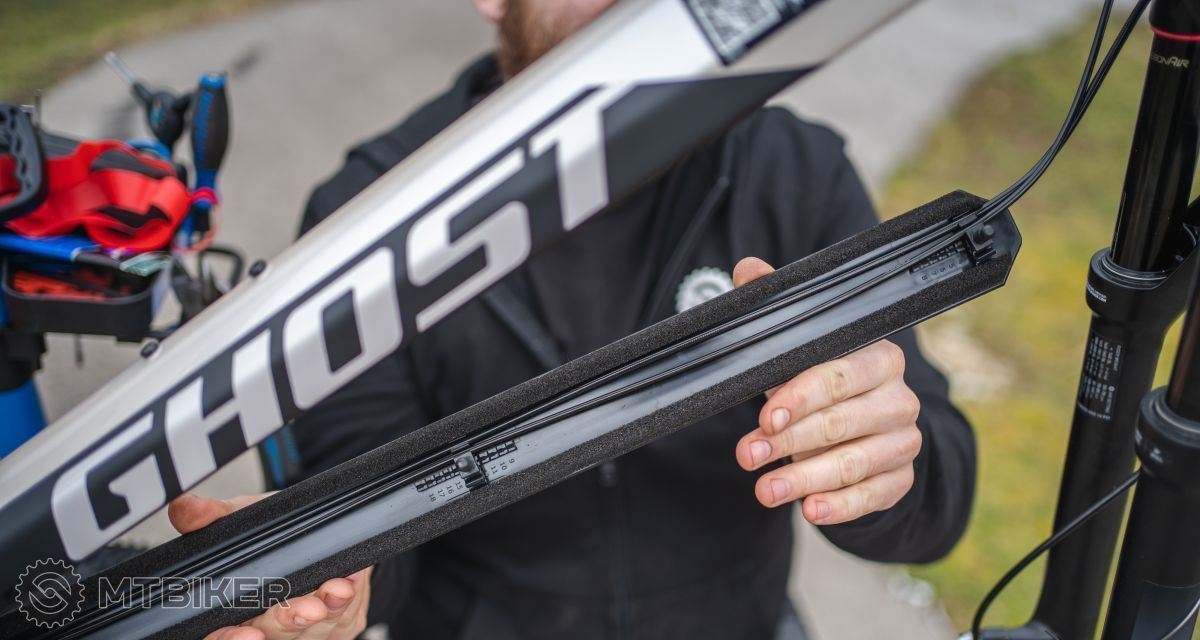 Nasledujúci krok je montáž kokpitu.
Tá je jednoduchá, zahŕňa iba uchytenie 740 mm širokých riadidiel Ground Fiftyone do 45 mm predstavca od rovnakého dodávateľa.
Priemer komponentov je 31,6 mm. Stačí dotiahnuť
momentovým kľúčom
.
Osadenie predného kolesa zahŕňa vycentrovanie brzdového strmeňa bŕzd Formula Cura 2 a samotná montáž kolesa pomocou pevnej osi s rozmerom 15 x 110 mm.
Posledným úkonom je zapojenie uzamykania vidlice RockShox Recon Gold RL so zdvihom 120 mm.
To sa nachádza na ľavej strane riadidiel.
Bicykel odvážime. Hmotnosť pre veľkosť L je bez pedálov 11,94 kg.
Ghost Lector Base prišiel v svetlosivej a čiernej farebnej kombinácii. Do čiernej farby je potom ladený aj zvyšok komponentov.
Vidlicu RockShox Recon Gold sme už spomínali vyššie, čo však stojí za spomenutie, je to, že zdvih 120 mm platí iba pre veľkosť L a XL.
Menšie veľkosti majú zdvih 100 mm.
Obutie bicykla dodal nemecký gigant Schwalbe v podobe plášťov Racing Ralph Performance 29x2,25.
Plášte sú obuté na kolesách vypletených na ráfikoch WTB ST Light i25, čo značí ich vnútornú šírku 25 mm na nábojoch Shimano HB-MT410-B 15x110 mm vpredu a FH-MT400-B 12x148 mm vzadu.
Brzdové kotúče Formula majú 180 mm vpredu a 160 mm vzadu.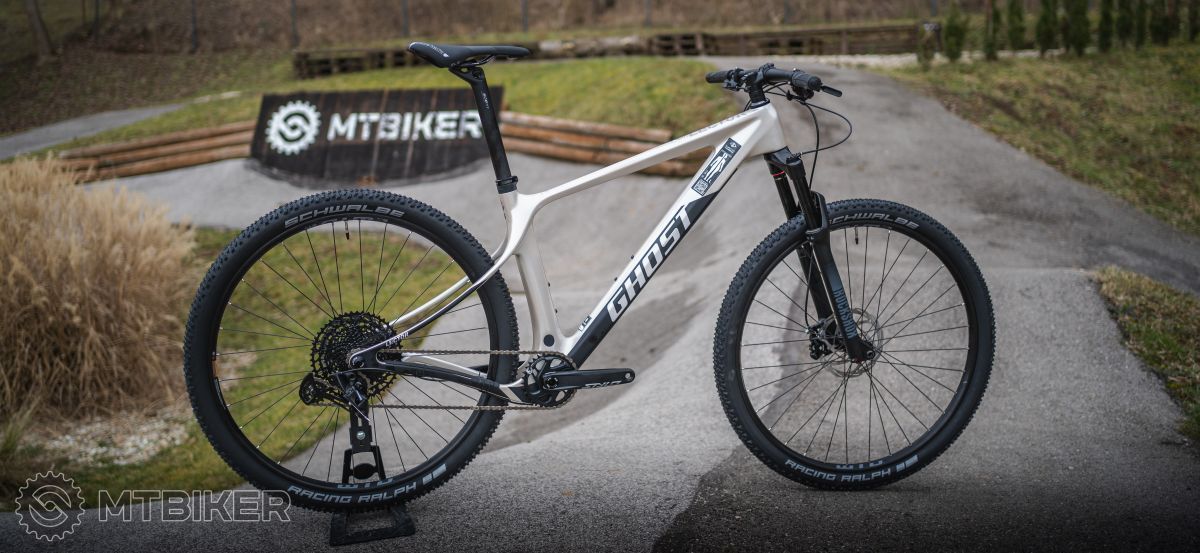 Pohonné ústrojenstvo bicykla pochádza od SRAM-u. Tvorí ho sada SX Eagle, teda 12-rýchlostná sada s kazetou PG-1210 s rozsahom 11 - 50 zubov.
Kľuky Truvativ Stylo 6K sú osadené 32-zubovým prevodníkom.
S kazetou ho spája reťaz rovnako zo sady SX Eagle.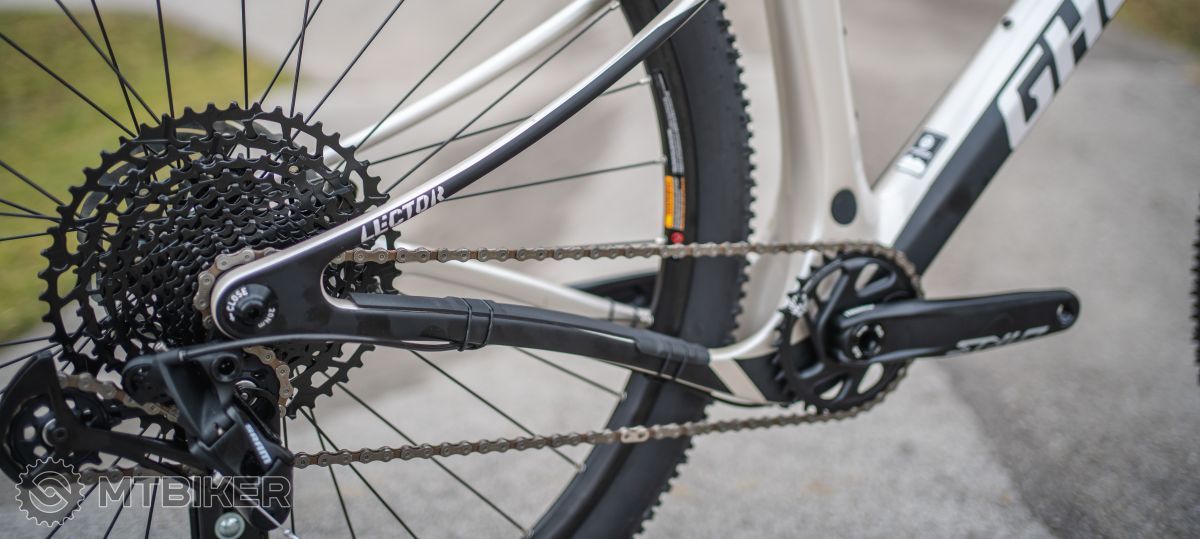 Galéria fotografií:

Na takomto bicykli jazdí aj náš "factory pilot" Imroman a jeho dlhodobé skúsenosti si môžete pozrieť vo videu
"Trochu iný hardtail alebo dlhodobé skúsenosti s Ghost Lector SF"
.
Bicykel máme momentálne dostupný skladom vo všetkých veľkostiach.
Jeho cena je 2 549 € a nájdete ho na
tomto odkaze
. Ak by sa medzitým vaša veľkosť vypredala, pridajte si ju do
wishlistu
.
Využi služby showroomu Bratislava a MTBIKER centra - Bikefitting a doručenie bicykla
V našich kamenných predajniach máme profesionálne vybavenie pre nastavovanie a optimalizáciu posedu s názvom Bikefitting. Ide o službu, ktorá na základe individuálnych fyziologických daností každého jazdca
určí správne nastavenie posedu
. V prípade, že sa rozhodneš využiť túto službu, detailné informácie o spôsobe objednania, druhoch merania, cenách a zľavách až do výšky 100 % nájdeš v sekcii Bikefitting na
tomto odkaze
. Služba je dostupná podľa aktuálnych protiepidemických opatrení.
Ak si
objednáš bicykel na našom eshope
alebo osobne v predajniach, je niekoľko možností, ako ti môže byť doručený. Jednou z nich je osobný odber v showroome v Bratislave alebo v MTBIKER centre s poskladaním a garančným servisom zdarma. Pri cene bicykla nad 1 000 € môžeš využiť možnosť nášho bezplatného doručenia k tebe domov. Viac informácií aj o ďalších formách doručenia nájdeš na
tomto odkaze
.
Z hľadiska aktuálnej situácie si dovozca vyhradzuje právo meniť špecifikácie jednotlivých bicyklov na základe aktuálnej dostupnosti komponentov. Pre kompletné informácie o produktoch, prosím, navštívte stránky jednotlivých výrobcov/dovozcov. Za rozdiely sa ospravedlňujeme. Je to jediná možnosť, ako vám v aktuálnej sezóne ponúknuť bicykle.
info
Tests and showcases of products are made with products and materiel borrowed from suppliers of the given brand or from the
MTBIKER shop
. Their content and conclusion is a subjective opinion of the author.
report_problem Did you find a mistake in the text?