New model - modelový rok 2023
Orbea ONNA 27 XS JUNIOR 50 children's bike, black/silver
Services available for this product
build Personal pick-up with assembling and warranty service for free
Product description
Orbea ONNA 27 XS JUNIOR 50 children's bike
Hydraulic disc brakes
Reliable in all conditions, better modulation of the braking effect with the use of less force on the lever. Heavier weight, more demanding service.
Coil fork
Provides adequate comfort and is usually installed on bicycles for recreational and less demanding riding. The disadvantage is its relatively heavy weight.
Specification
| | |
| --- | --- |
| Frame | Orbea Onna Alloy, Dropout 9x135, BSA BB, Internal cable routing |
| Fork | SR Suntour XCE 28 Coil 100 mm QR |
| Spoked wheels | |
| Tires | |
| Shifters | |
| Front derailleur | |
| Rear derailleur | |
| Cranks | |
| Chain | |
| Cassette | Sun Race CSM66 11-34T, 8-Speed |
| Brakes | Shimano MT200 HYDRAULIC DISC |
| Saddle | Essax Adv soft 135 mm for Orbea |
| Seatpost | |
| Handlebars | Alloy Flat 31.8 mm 720 mm |
| Stem | Alloy 31.8 mm interface 7o |
| Headset | |
| Pedals | |
Product details
| | |
| --- | --- |
| Model year | 2023 |
| Groupset | Other |
| Gears | 2x8 |
| Brakes | Disc brakes - hydraulic |
| Fork travel | 100 mm |
| Size | xs |
| Colour | black/silver |
| Fork | Spring |
| Child's height | 145-160 cm |
| product ID | 213480 |
info
Due to long-term issues with the supply of components, some manufacturers exceptionally approach changes of installed components contrary to the specification without letting us know. Unfortunately, it is not in our power to go through each bike and verify the differences between the manufacturer's stated components and its actual equipment. Alternative parts should meet the same standards as the original. We apologise for any discrepancies.
How to choose the right size?
How to choose the right size of children's bike or push-bike?
Children choose based on the colour and design, and we adults help them with the rest. That means the correct saddle height, frame size and type – according to the environment in which the children will move on the push-bike or on the bike.

The most important factor when it comes to children's bikes is choosing the right size. This applies to the frames themselves as well as to the wheels. You can find bicycles categorized according to wheel size in our MTBIKER shop. The specified frame size range often overlaps at the end values. This is because children grow at different rates, and the same is true with motor development. The overlapping values solve the situation when your child is on the end value of the given size (see the table below). This applies especially to online shopping.

It is necessary and very important to take your child's skills into consideration. The sentence: "I'll buy a bigger one, because they will grow up," should be forgotten when choosing, because a bike that is too big will be significantly heavier and also more difficult to manoeuvre. This can result in a collision situation or disgust towards cycling due to incorrect and uncomfortable seating on the bike. Of course, this also applies to sizes that are too small. When buying in a brick store, it is easier, because the child can try the bike, and you can also consult with our staff.
Children's size chart
| Wheel size | Child's height | Child's age | Distance (crotch - ground) |
| --- | --- | --- | --- |
| 12" | 91 - 99 cm | 2 - 3 year | 38 - 46 cm |
| 14" | 94 - 112 cm | 2 - 4 year | 38 - 51 cm |
| 16" | 94 - 112 cm | 2 - 4 year | 38 - 51 cm |
| 20" | 114 - 137 cm | 5 - 8 years | 48 - 64 cm |
| 24" | 124 - 150 cm | 8 - 11 years | 58 - 71 cm |
| 26" | 142 cm + | 10 + years | 64 cm + |
We recommend taking into account the height, not the age of the child. The distance from the crotch to the leg is equally important (you will often come across the term "inseam"). We try to add this information to as many children's bikes as possible, but the manufacturer does not always have it. The height can be found in the "Product Details" table under each bike/push-bike.
Measurement
If you decide on a push-bike, or bicycle, where we have information about the length of the inseam, or crotch height, before measuring the child, put them in the shoes they usually wear. Position the child against a wall or other vertical surface. You can help yourself, for example, with a book that you can align on a vertical surface. Put it as close as possible to the crotch, but so that it does not feel uncomfortable. Mark the highest point of contact of the book with the wall and measure. You will get data, thanks to which you can check whether the child even reaches the ground – this applies especially to the smallest ones. For a better idea of the measurement, you can watch this video.
Size overview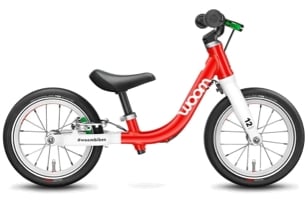 Push-bikes
If the child has not yet reached the pedals, or you are simply worried that they will not be able to ride yet, a push-bike is the ideal solution. It will be an ideal first "bike" for most young children. They can safely ride it even before the age of 2. Of course, the key is that the child already reaches the ground. Modern push-bikes have an adjustable height of both the saddle and the handlebars. Thanks to this, they will last a relatively long time until they gain the confidence or desire to switch to a bicycle with pedals.
Most of them have a wheel diameter of 12 inches (there are even smaller models for very small children). They differ mainly in price. On the more expensive ones, you will find, in addition to the aforementioned adjustment of the height of the saddle and handlebars, for example a lightweight frame made of aluminum alloy or composite, more voluminous tyres, possibly footrests, even a brake. This is not absolutely necessary, it will brake mainly with the feet, but it can help to create a habit.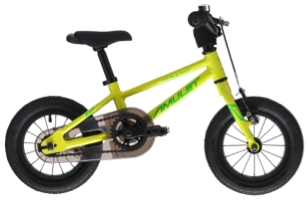 12-inch bikes
With 12-inch bicycles with pedals, you can often find removable training wheels. You can remove them from the bike or change the "support" while riding by tilting them. These bikes are single-speed, so they don't have gears, and braking is done by reverse pedalling. Children will still appreciate the simplicity of learning and good manoeuvrability the most. The bikes are equipped with a chain protector, so there is no risk of contact, and there are also handlebar end protectors. They come in handy in the event of a fall, when they protect the hands, and there is also a much smaller chance that the handlebars will slip out of the child's hands. Bicycles allow you to adjust the height of the saddle, but typically also the height of the handlebars. Thus, they easily adapt to the rapid growth of the child.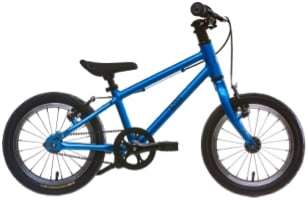 14-inch bikes
There is no big difference between 12" and 14" bikes. If your child is "ahead" in development, is taller or has been doing very well on the push-bike, you can go for the 14-inch version for your first bike. They basically have the same features and basic construction elements as the 12-inch ones, you can often find them without training wheels. The difference is also in that the bicycle very often no longer brakes exclusively through reverse gear, but can have a so-called freewheel and a pair of independent brakes, as with classic bicycles, which you will also appreciate later in the future when switching to a larger bicycle.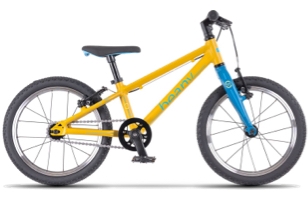 16-inch bikes
Some children start cycling at a later age, or they feel good on the push-bike for a relatively long time. In this case, you can choose a 16" bike. It is still an excellent first bike, suitable for learning even for slightly older children who know how to ride a bike. In the selection, you will also find versions with training wheels, with reverse brake, but also with freewheel or a pair of independent brakes for the more advanced. The deciding factor is whether the child is a complete beginner or has ridden a bicycle before. Our selection in this category also includes bicycles for small racers.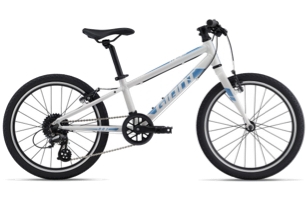 20-inch bikes
Here we can already talk about a certain specialization. We especially mean whether your child only wants to "circle" around the playground, "around the block of flats", or ride with you on easy terrains, participate in family races, etc. Here we can already find suspension forks, more frequent derailleurs, even disc brakes. From our point of view – we are supporters of a fixed fork and bigger tires, which can largely replace a suspension fork with the right inflation. In this way, you will save significantly on the total weight. This becomes a key factor, because a light bike is also easy to handle. A bicycle that is too heavy can be harder for a child to control and thus make the ride more uncomfortable. Of course, as also applies to "adult" bikes, the more elements (shifters, disc brakes, forks...), the more demanding service and maintenance.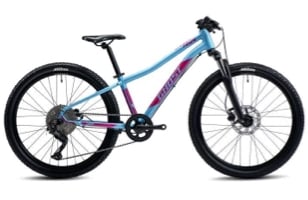 24-inch bikes
We can safely call them a turning point in children's cycling. 24" clearly look more like classic bikes. They often have very similar equipment and other parameters as adult ones. During selection, it is important to know what kind of terrain your child will primarily ride on. In this category, we can already find full-suspension models, even electric bicycles. We know from our parents' and our own experience that between the ages of 9 and 14, children try their first jumps, tricks or riding in more challenging terrain. Since these are bicycles that will be used for longer, in contrast with the small ones, when children grow every year, it is advised to consider more durable equipment. Lightweight models, air forks and hydraulic disc brakes are also available for sporty little riders.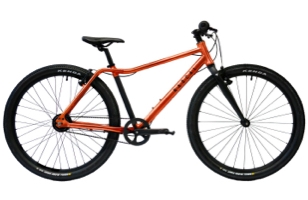 26 and 27.5-inch bikes
Even though we classify them as children's bikes, they are full-sized bikes, which are specific for smaller frame sizes and, of course, the lower weight of the riders is also taken into account. When choosing, what is mentioned above applies to 24-inch tires - that is, focusing on the difficulty of the terrain, on the frequency of driving. The choice between 26" and 27.5" wheels is somewhat influenced by the size of the frame itself. The smaller ones, 26" are a bit more "playful" and lighter, while the 27.5" have better terrain and obstacle clearance. However, a larger diameter goes hand in hand with a higher weight.
How we ship bikes
All bicycles at the MTBIKER shop are new, not-ridden, from an official distributor and with a full warranty. Several brands even offer a lifetime warranty on the frame after registration. We perform all warranty services in MTBIKER stores after personal delivery or after sending the bike (or its part) by courier.
Our bike shipment is as follows:
The bicycle is taken out of the manufacturer's box
The bicycle is assembled, inspected and adjusted (front and rear derailleur, shock, fork, wheels,...)
The bicycle is carefully packed back into a box and shipped
If you order a bicycle for in store pick up or home delivery, the bicycle will be waiting put together, checked and ready to use for you.
If you order a bicycle via courier to your home address, the following must be done at home:

Take the bike out of the box and carefully remove safety material and foils
Mount handlebar to stem (

1 minute, 4 or 5 mm hex hey is needed

).
Mount front wheel to fork (

1 minute, without the need of any tools if the bike has a quick release

).
Loosen the screws in the headset, straighten the stem with the front wheel, tighten the upper screw on the fork and then tighten the headset (

2 minutes, 4 or 5 mm hex key is needed

).
Mount the pedals to the cranks while lubricating the thread and carefully mounting it the right way (

1 minute, 8 mm hex key or 15 mm wrench

).
Mount seatpost to frame (

10 seconds, without needing any tools if the frame has a quick link

).
Inflate the tyres or fork and shock to desired pressure (

2 minutes, pump needed

).
Check the tightening of hex keys and quick-releases (

2 minutes, 4 and 5 mm hex key is needed

).
Go for a test drive! Handle your bicycle carefully until you get used to it. If the bike has disc brakes, their performance will be limited from now on - they will gain their full power after 4-5 strong brakes at higher speed.
Auxiliary video for setting up the bike:
Reviews
Rating

0/5 star_outlinestar_outlinestar_outlinestar_outlinestar_outline

(0 ratings)
starstarstarstarstar
(0 ratings)
starstarstarstarstar_outline
(0 ratings)
starstarstarstar_outlinestar_outline
(0 ratings)
starstarstar_outlinestar_outlinestar_outline
(0 ratings)
starstar_outlinestar_outlinestar_outlinestar_outline
(0 ratings)
Add your rating
star_outline
star_outline
star_outline
star_outline
star_outline
Add a review
Questions
Three brothers established this Spanish brand in 1840, and they originally made guns. In 1930, they gave up the gun business and began manufacturing bikes. Julien Absalon won a gold medal in MTB XC, and Samuel Sánchez won an individual road race on an Orbea bike. They also sponsored many World Tour teams. They are a Basque brand with temperament, spirit and mountains in the heart.
800 000+ orders
We are the largest cycling e-shop in Slovakia proven by 100,000+ customers.
Unique customer service
We are available via email, online chat, phone or in person at our MTBIKER stores.
We actively support the cycling community in Slovakia
Thanks to your order we can support cycling development.
Secure payment methods
The payment process is safe and we offer you a wide range of options.
Loyalty system
We will reward you for your purchase and also for quality contributions in the MTBIKER forum, e-shop, trips and photo gallery.
MTBIKER centre and showroom
Visit our store with a pump-track and trail access or our showroom in a historical bulding in central Bratislava.
More about shopping
navigate_before
navigate_next