Čo vie tradičný výrobca prilieb Giro vylepšiť na top modeli prilby, keď je cieľom najmä ochrana, ale dôležité je aj vetranie, hmotnosť a praktickosť?

Všetko sa v cyklistike vyvíja, niektoré oblasti sa menia dynamicky a iné zažívajú skôr evolúciu. Prilby by som zaradil do tej druhej kategórie, ak si pozerám fotky cyklistov staré 5 alebo 10 rokov, veľký rozdiel oproti dnešku nevidím. Už vtedy boli prilby vyrábané podobne, materiál sa spájal so škrupinou vo formách a za pomoci lisu, rovnako sa riešil počet vetracích otvorov alebo hmotnosť.
Ak by som chcel nájsť a pomenovať niečo zásadné, čo sa za posledné obdobie v "prilbárskom remesle" zmenilo, tak na ukážku mi dobre poslúži model Giro Aries Spherical.
S touto prilbou jazdím od začiatku sezóny, najčastejšie ju používam na pretekoch a dôvod súvisí s tým, čo robí túto prilbu odlišnou od ostatných.
Ako vyzerá ideálna prilba
Ak by som mal opísať dokonalú prilbu, tak jej vlastnosti by vyzerali nasledovne, poradie som zoradil podľa mojich priorít:
bezpečnosť
pohodlie
vetranie
hmotnosť
dizajn
...u inej značky som nenašiel takto prepracovaný prístup k bezpečnosti...
Zámerne hovorím o subjektívnom vnímaní, tie veci síce nebudú zásadne odlišné od väčšiny cyklistov, ale nejaké rozdiely medzi nami sú. Dôležitosť jednotlivých vlastností sa mení aj podľa toho, či niekto preteká a trénuje dlhé hodiny, alebo "len" dochádza na bicykli do práce, alebo ide občas cez víkend na výlet za mesto.
Preto je v mojom rebríčku na prvom mieste bezpečnosť.
Štatisticky som vystavený väčšiemu riziku už len kvôli počtu hodín v sedle a to nespomínam jazdenie v premávke a pretekanie na podujatiach s hromadným štartom.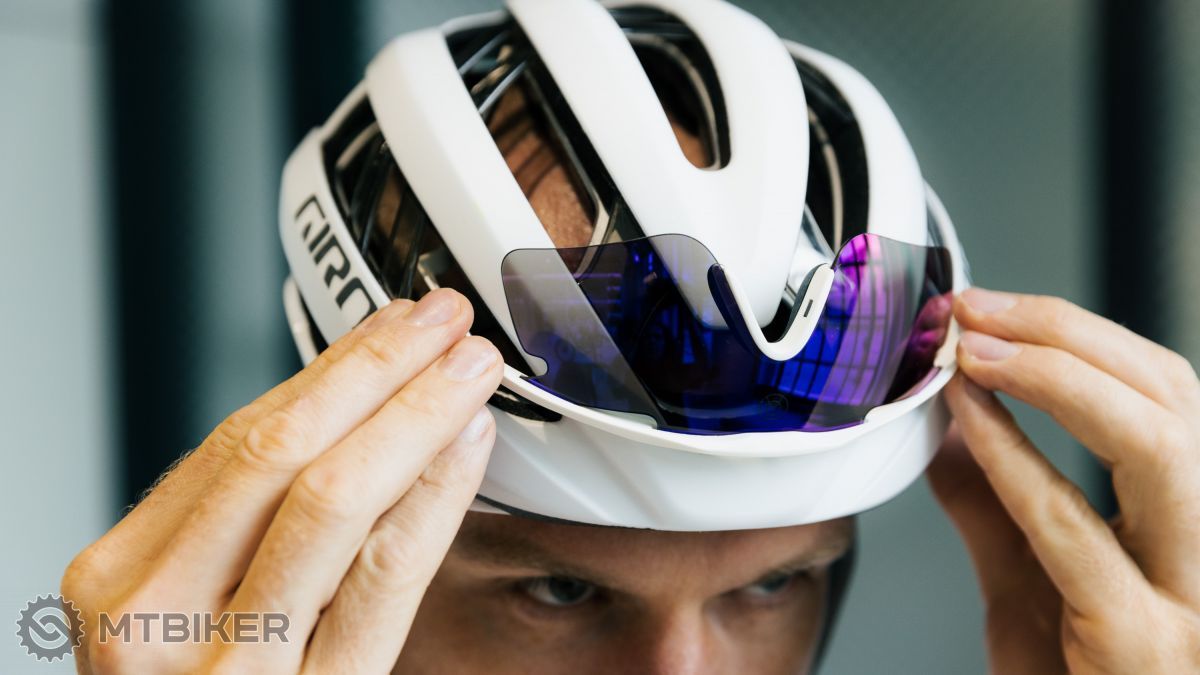 Pohodlie a vetranie súvisí opäť s najazdenými kilometrami
, ak by prilba tlačila, alebo slabo vetrala, trpel by som veľa hodín. A pri dnešnej ponuke zbytočne. Hmotnosť cyklisti radi riešia najmä kvôli stúpaniam, ale pri prilbe treba myslieť aj na krk, ten je na ňu citlivejší, akoby sa zdalo.
Testované veci zvyčajne vážim a táto prilba má presne toľko, koľko uvádza výrobca (275 g), čo je len o 30 g viacej, ako top prilba inej značky. Prečo tento mierny nárast vnímam pozitívne?
Lebo vďaka systému Spherical môžeme o tomto modeli povedať, že sú to vlastne 2 prilby v jednej - v článku spomeniem aj viacej detailov.
Na posledné miesto som síce dal dizajn, ale to neznamená, že ho vôbec neriešim.
Rád používam veci, ktoré sa mi páčia, možno by som dokonca obetoval nejaký vetrací otvor alebo gram navyše výmenou za pekný produkt. Toľko dlhší úvod, teraz sa mi bude ľahšie vysvetľovať, prečo mi prilba Giro Aries Spherical padla do oka hneď po preštudovaní jej najsilnejších stránok.
Spherical je eso v rukáve
Pri cestnom pretekaní to často "smrdí" pádom, preto som sa potešil, že model Aries je vybavený systémom Spherical od značky
MIPS
. Kto sa v cyklistike pohybuje viacej, už sa s ochrannými klietkami stretol, kto ešte nie, vysvetlenie nie je zložité.
Prilba so systémom Spherical funguje ako kĺb, je vyrobená z dvoch častí, ktoré spolu držia vďaka pružnému materiálu a toto všetko funguje ako "trativod".
Energia nárazu, ktorá sa dostane až k hlave a mozgu, je vďaka tomu nižšia.
Ďalší bezpečnostný prvok prilby sa nazýva AURA II, je to ten priesvitný pás, ktorý ide naprieč prilbou.
Pomáha s odolnosťou prilby a zároveň je zachovaná aj jej vzdušnosť.
Moderným prvkom je dnes aj používanie rôznej hustoty peny, z ktorej sa prilba vyrába, Giro to nazýva progresívne vrstvenie. Vďaka systému MIPS a aj ostatným spomenutým detailom, model Aries získal maximálny počet hviezdičiek v nezávislom bezpečnostnom teste.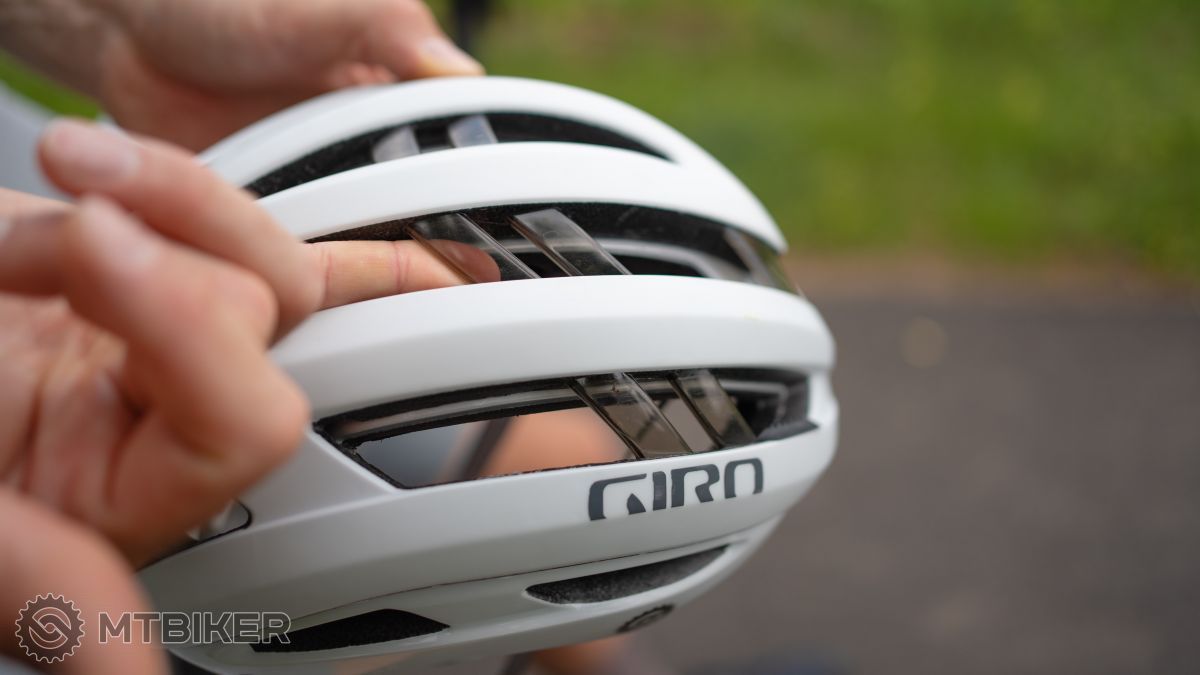 Pohodlie a praktickosť
Kamarát Ľuboš testoval podobný model
Giro Helios
, už táto prilba má Spherical a aj sa na Aries celkom podobá. Rozdiel som si všimol v počte vetracích otvorov, testovaná novinka ich má 24, vnútornému prúdeniu vzduchu by mali pomáhať vnútorné kanály, ktoré ho smerujú. A keď sme pri praktických stránkach,
Aries má na rozdiel od prilby Helios aj miesto na odloženie okuliarov, nechýbajú ani protišmykové gumičky v prieduchoch.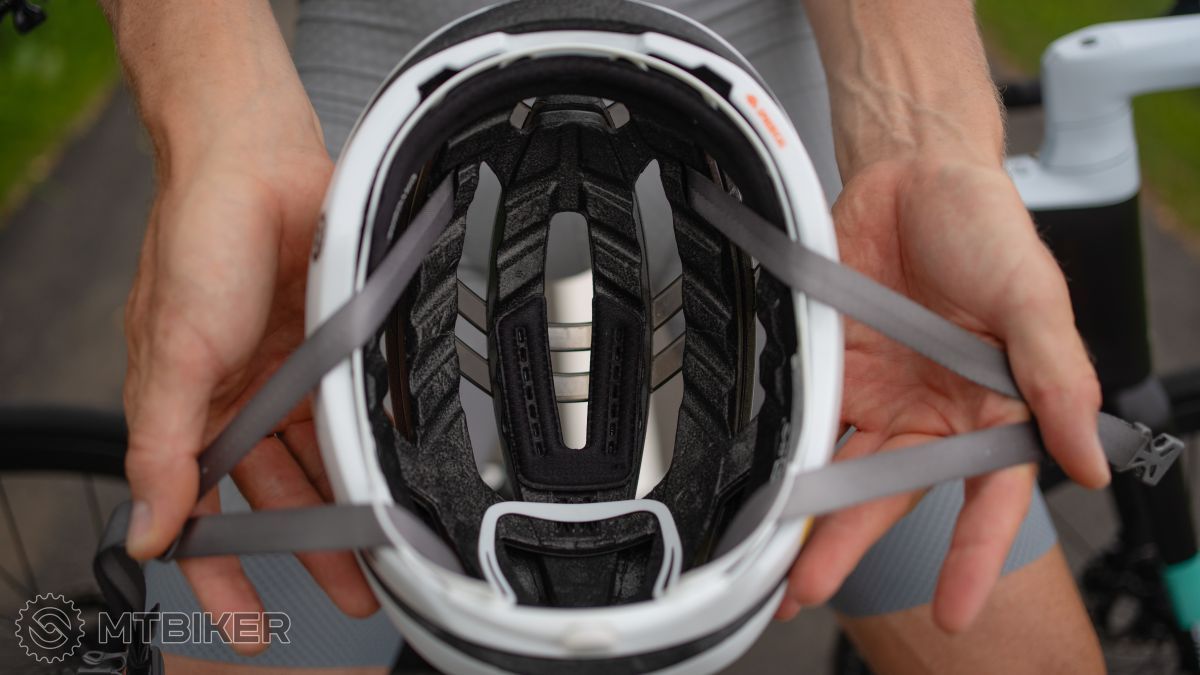 Proti zápachu sa do výstelok s názvom IONIC+ používa strieborné vlákno, menej sa množia baktérie.
Výstelky majú dokonca tvar a prieduchy, ktoré pomáhajú proti stekaniu potu do čela a za rovnako dobrú správu považujem aj to, že sa dajú bez problémov
zohnať v eshope
. Aj tie najlepšie výstelky časom prehrajú boj s agresívnym potom.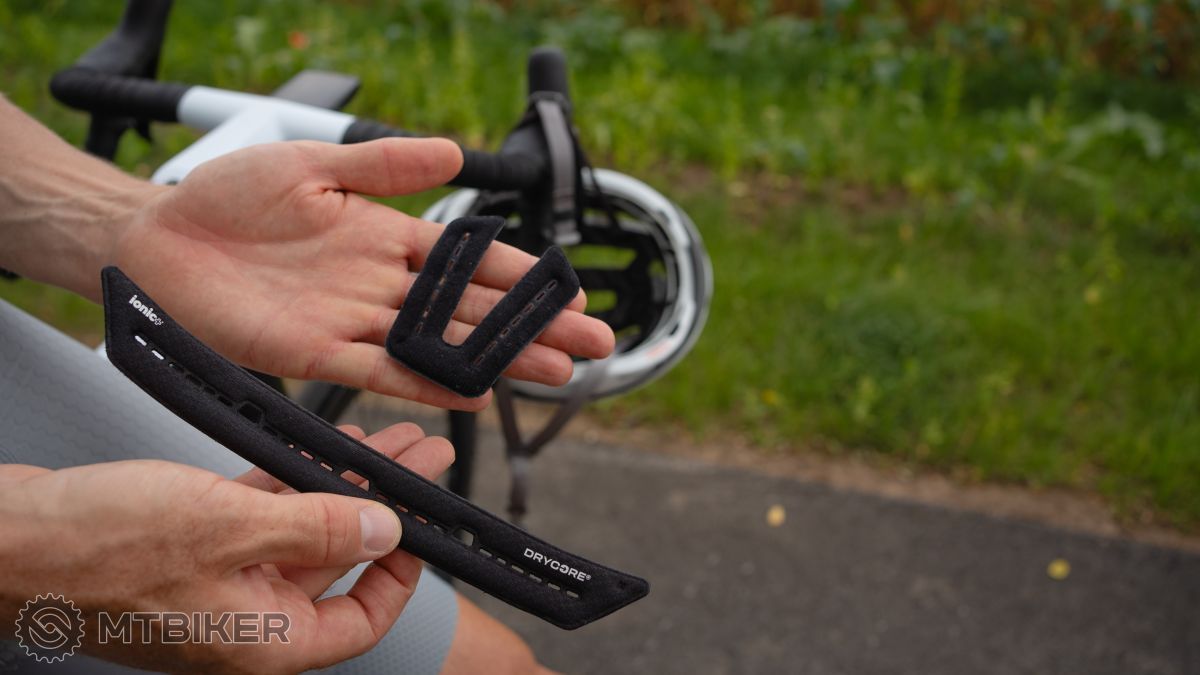 Ako príjemný detail spomeniem
reflexný pás na zadnej časti prilby a možnosť si ju objednať v šiestich klasických farebných prevedeniach,
občas v ponuke pribudne dizajn nejakého tímu, sponzorovaní profíci logicky používajú tento top model.
Veľkosti a ako sedí
Prilba sa najčastejšie vyberá podľa obvodu hlavy, ja som na hranici 60 cm. U väčšiny značiek to znamená, že som medzi strednou a najväčšou veľkosťou, takže musím dobre vyberať. Najväčšie prilby mi často škaredo odstávajú, tie stredné občas tlačia. Model Aries končí pri veľkosti M na 59 cm, ale na mojej hlave mi sedí výborne.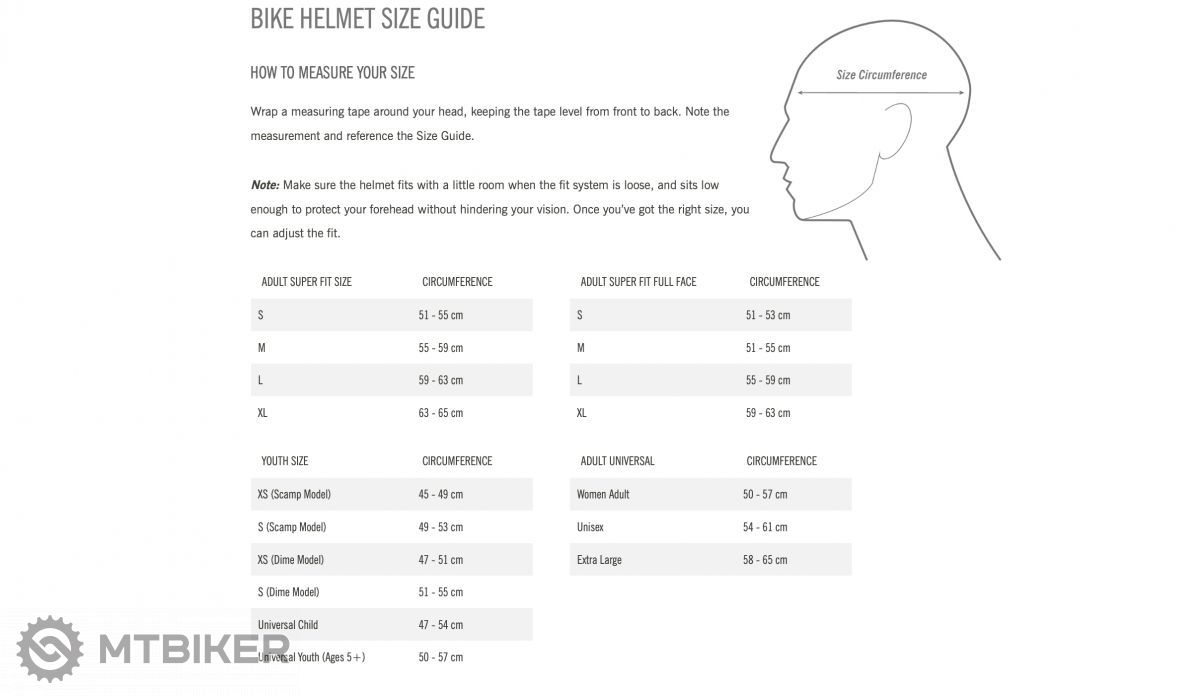 Zásluhu má na tom aj tvar prilby ako takej, zdá sa mi zdravo široká, netlačí ma na bokoch lebky.
Dokonca mi ostáva aj miesto na letnú čiapku.
Top modely s podobnou cenou mám aj od inej značky, ale Giro mi sedí ešte lepšie. Ak by som si mal vybrať, v ktorej prilbe musím absolvovať pád, alebo za ktorú ma zavesia do vzduchu nad priepasťou, bez váhania vyberám Aries. Vyhráva bezpečnostnými systémami a tým, ako mi perfektne drží na hlave.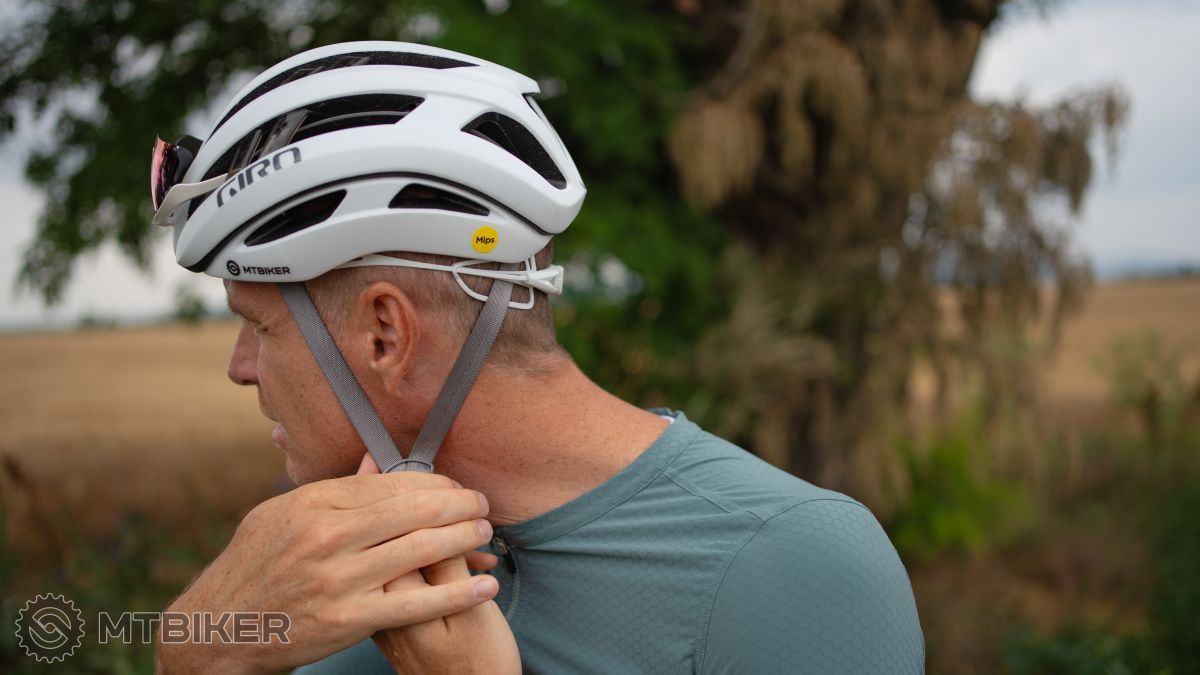 Popruhy sú klasické, zapínajú sa na pracku a dajú sa nastavovať aj pri ušiach.
Ak toto chýba, popruhy môžu rezať ušné lalôčiky. Do všetkých strán sa dá upravovať aj zapínanie ROC LOC 5+ AIR na temene, kúsky plastu vyzerajú na pohľad subtílne, ale všetko drží, ako má.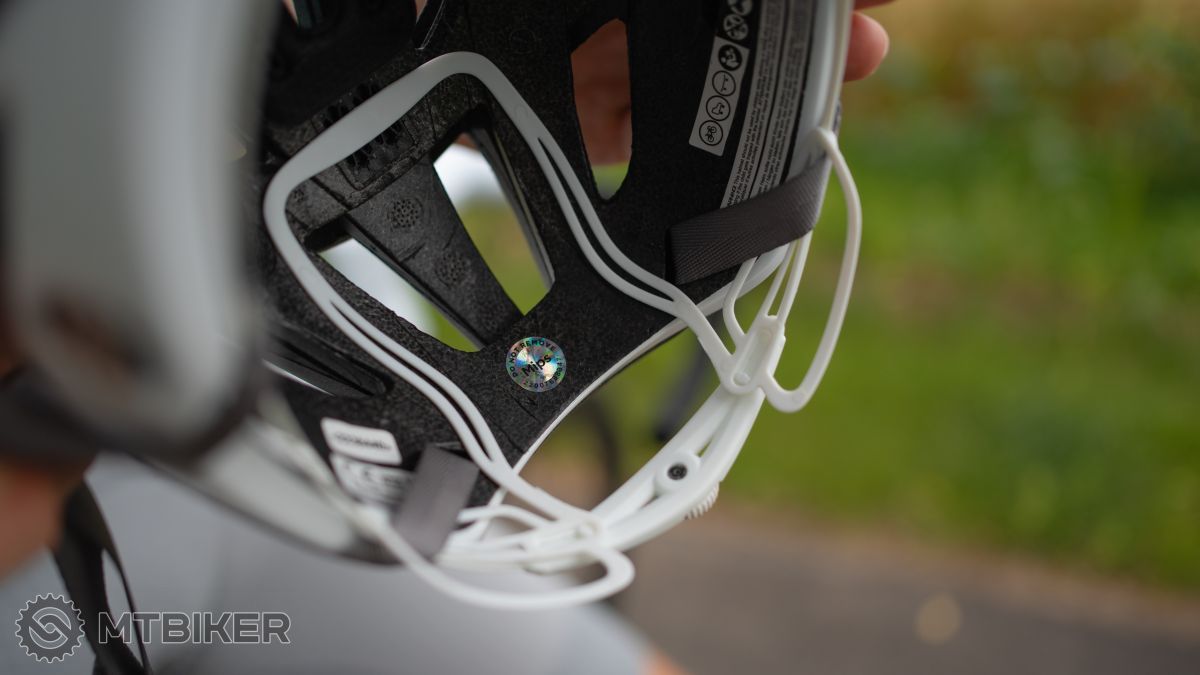 Vietor fičí a najdôležitejší je ten pocit
...prilba Giro Aries Spherical je to najbezpečnejšie, čo si viem na hlave pri jazdení predstaviť a ešte mi aj výborne sedí.
Ako Aries splnila moje očakávania od prilby, ktoré som spomínal na úvod? Bezpečnosť pri jazdení testovať nemienim, spolieham sa na tvrdenia značky. Pohodlie som riešil teraz pri výbere veľkosti, obe veci hodnotím na jednotku.
Až pri jazde sa prejaví, či počet a tvar prieduchov zabezpečuje dobré vetranie
a keďže prilbu jazdím už mesiace, zodpovedne prehlasujem, že aj toto funguje. A ak si vyberiete bielu farbu, Aries bude dobrý parťák aj do najhorúcejšich dní.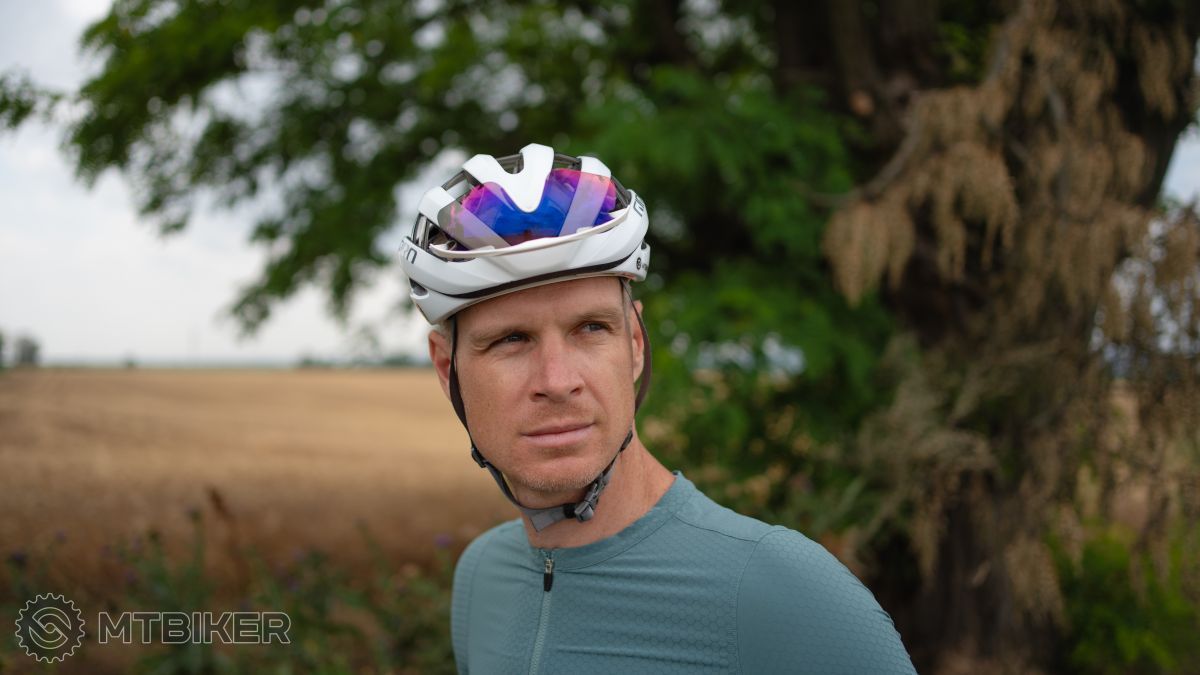 Z poznatkov z jazdenia môžem spomenúť aj odkladanie okuliarov.
Protišmykové gumičky sú robustné a k prilbe poriadne prilepené,
okuliare zvyknem do prieduchov odkladať dole hlavou, menej tak zavadzajú ich bočnice.
Vec, ktorú rieši asi každý cyklista alebo cyklistka v lete, je odvádzanie potu, aby nestekal do tváre.
Podľa môjho názoru viac ako perforácia a tvar výsteliek pomáha materiál, z ktorých sú vyrobené,
nad čelom sú dostatočne robustné, takže "povodeň" sa dostaví neskôr, ako by sa dalo čakať. Ale zázračné riešenie v tejto oblasti som ešte nevidel, keď je potu príliš, treba výstelky občas vyžmýkať. Robím to tak, že sa predkloním, dám dole okuliare a zatlačím do prilby. A na chvíľu je v kopci pokoj.
Kvalita má cenu
Na úplný záver spomeniem spracovanie, škrupina je s penou prilby spojená precízne, len pri veľmi skúmavom pohľade sa dajú nájsť malé chybičky krásy.
Možno by si toto iný cyklista ani nevšimol, ja som kritický kvôli cene, ktorá je pri prémiovej prilbe tiež prémiová.
Z rovnakého dôvodu som kritický aj k dizajnu, ide o úplnú klasiku, ja mám radšej modernejší a pokojne odvážnejší štýl. Aries mi pripomína ešte dobu Armstronga. Na druhú stranu, niekto práve pre toto preferuje Giro.
Každopádne, prilba Giro Aries Spherical je to najbezpečnejšie, čo si viem pri jazdení na hlave predstaviť a ešte mi aj výborne sedí.
Preto ju nechávam zaradenú vo svojom "šatníku", najmä na cestné preteky ostáva mojou prvou voľbou. Cena nie je nízka, ale kto jazdí viacej, tak na vlastnej koži pravdepodobne zistil, že na niektorých položkách sa neoplatí šetriť.
Bežná cena prilby
Giro Aries Spherical
je 319,95 €, navyše verní zákazníci MTBIKER shopu sa dostanú na lepšie ceny vďaka
vernostným zľavám
. V ponuke bývajú zvyčajne aj
iné farebné prevedenia
, celá ponuka prilieb značky Giro sa dá pozrieť vďaka
filtrom vyhľadávania v eshope
.
Photo source: archív autora
info
Tests and showcases of products are made with products and materiel borrowed from suppliers of the given brand or from the
MTBIKER shop
. Their content and conclusion is a subjective opinion of the author.
report_problem Did you find a mistake in the text?