V dobe gravelov, elektrobicyklov, rôznych rozmerov plášťov a geometrií rámov je potrebné prispôsobovať sa. Čo všetko dokáže nosič na ťažné zariadenie Epos 3 od Thule?

Thule je švédsky výrobca rôzneho kargo príslušenstva pre cyklistický a automobilový svet.
Zahŕňa všetko, čo je určené na prepravu batožiny, vrátane batohov, detských vozíkov a sedačiek na bicykel, až po samotný transport bicyklov.
Za samozrejmosť sa dá pri tejto značke považovať špičkové spracovanie, kvalitné a odolné materiály, ale aj jednoduchá obsluha a manipulácia, pretože cyklisti chcú jazdiť a nie "babrať sa" s nosičom. Oproti predchodcom je vybavený flexibilnými, samostatnými, teleskopickými ramenami s otočnou hlavou, aby ste mali viac možností uchytenia vášho bicykla, alebo aj integrované kolieska, pre jednoduchšiu manipuláciu so samotným nosičom. Viac sa dozviete v unboxingu.
Parametre
Rozmery: 91 x 126 x 22 cm
Rozmery v zloženom stave: 91 x 27 x 75 cm
Kapacita: 3 bicykle
Nosnosť: 60 kg
Max. hmotnosť jedného bicykla: 30 kg
Hmotnosť: 22,7 kg
Max. šírka pneumatiky: 3" (4,7" s použitím popruhov Thule XXL Fatbike Wheel Straps)
Max. priemer rúrky bicykla: 22 - 90 mm
Max. veľkosť kolies (priemer): 29"
Zásuvka: 13-pin
Vybaľovanie bolo veľmi jednoduché. V podstate stačilo otvoriť krabicu, odstrániť kartónovú výplň a stojan bol pripravený.
Na prvý pohľad upútajú kompaktné rozmery. V zloženom stave
nezaberie veľa miesta ani v garáži, alebo záhradnom domčeku, či pivnici.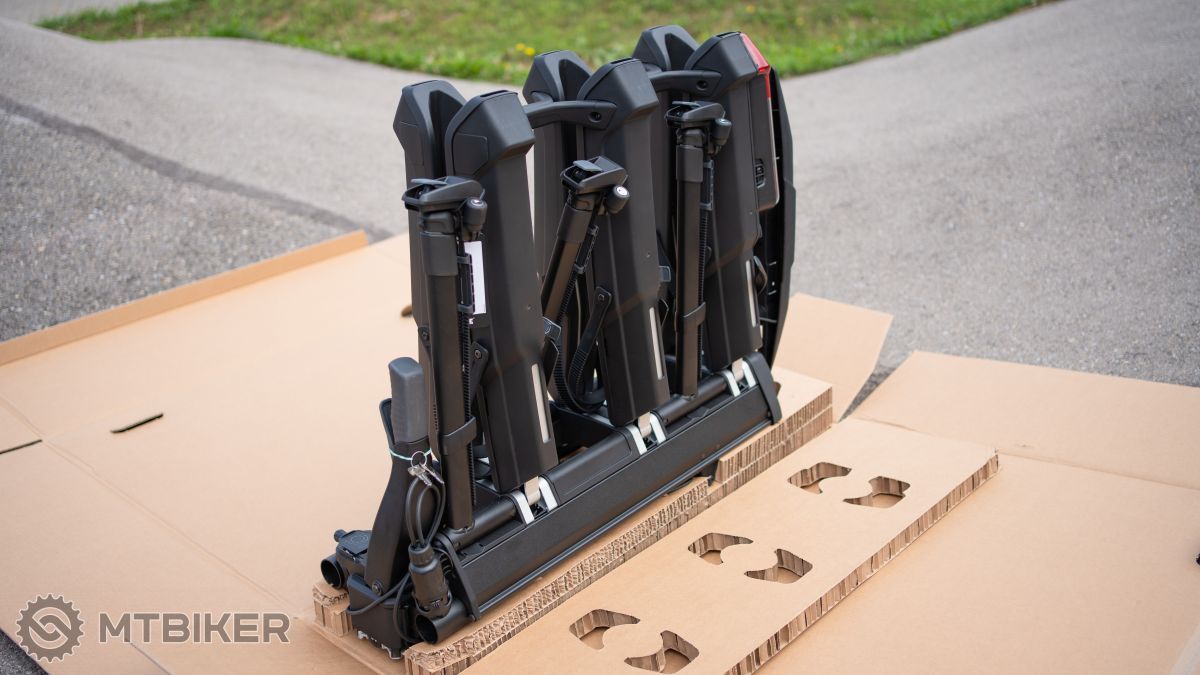 Manipulácia je intuitívna, avšak
aby sme na nič nezabudli a objavili všetko, čo ponúka, je potrebné nahliadnuť do pribaleného manuálu,
kde sú všetky podrobnosti a možnosti detailne spracované a vysvetlené.
Aby sme nosič nemuseli prenášať v rukách, namontujeme
prepravné kolieska, ktoré umožnia pohodlnejšiu manipuláciu,
resp. prenášanie stojanu - napríklad od auta do garáže a podobne.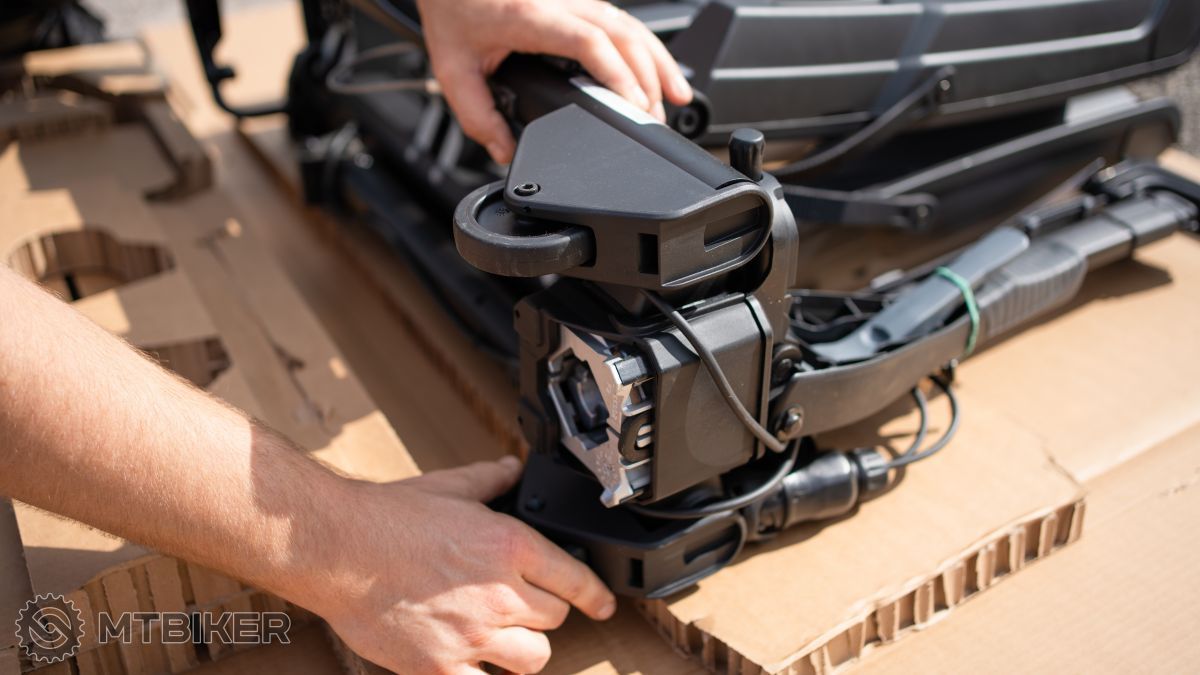 Epos 3 je pripravený vyraziť na výlet. Teda, takmer. Chýba nám ešte automobil… To však rýchlo vyriešime.
Nasadenie na ťažné zariadenie je už štandardná záležitosť, čo je však podstatné, vďaka spomínanej kompaktnosti je táto operácia omnoho jednoduchšia.
Po nasadení stačí nosič roztiahnuť a je pripravený na to, na čo bol stvorený.
Teraz sa pozrieme na manipuláciu s nosičom pri nakladaní a upevňovaní bicyklov.
Výrobca vypočul hlasy cyklistov všetkých kategórií a prispôsobil ramená na upevnenie bicyklov za ktorúkoľvek časť rámu,
alebo zadného kolesa, čo poskytuje mnoho možností. Môžete vďaka tomu naložiť a vyložiť až dva bicykle v ľubovoľnom poradí. Nebude záležať na tom, či máte elektrobicykel, gravel, mestský bicykel s blatníkmi a nosičmi, alebo moderný "položený" enduro bicykel.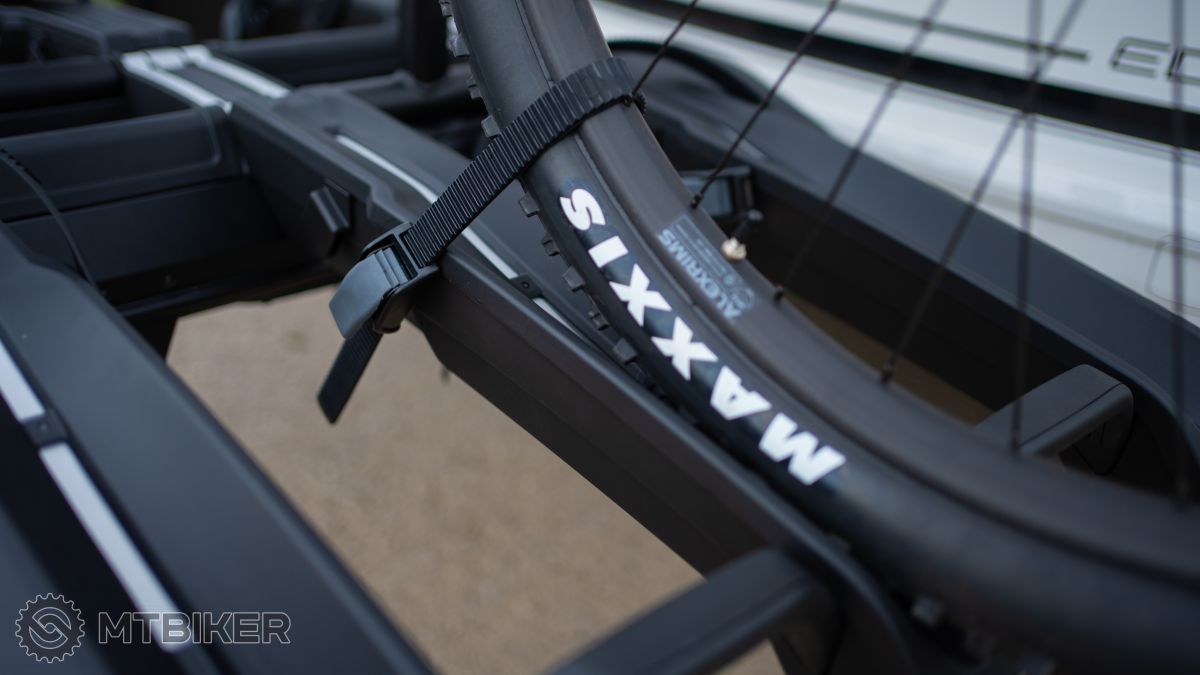 S uchyteným bicyklom za dobrodružstvom.
Bicykle sa dajú zamknúť vďaka ramenám so zámkom, rovnako je uzamykateľný aj samotný nosič.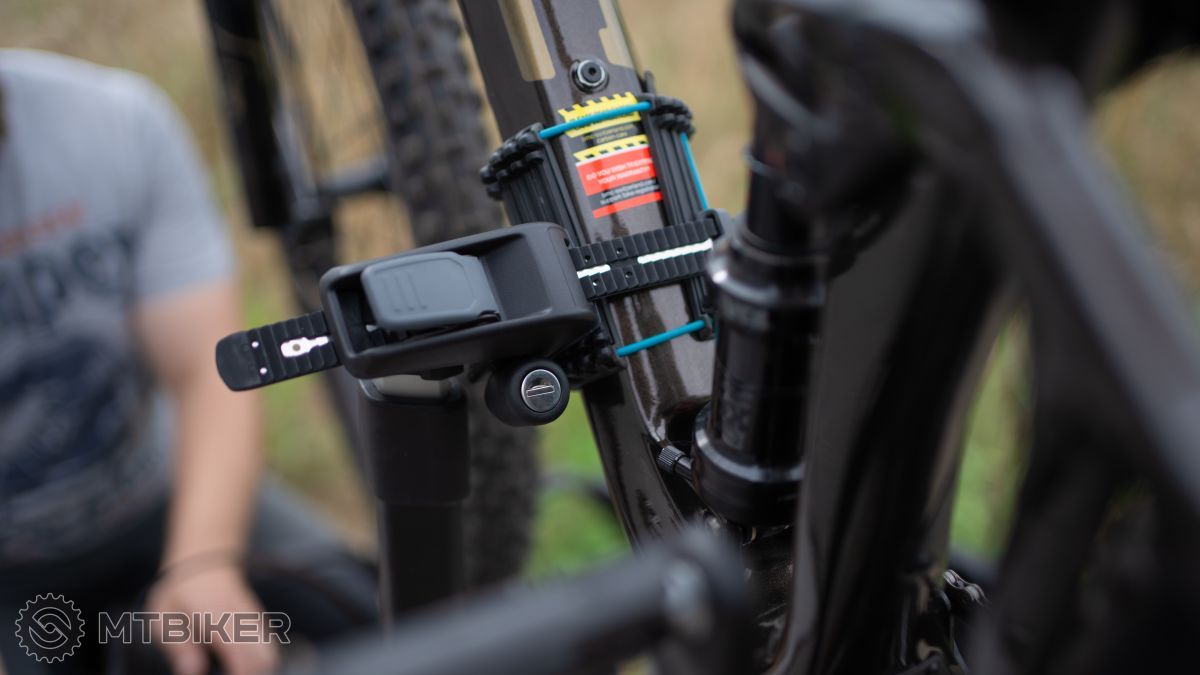 Pre ľahšiu manipuláciu s bicyklami je nosič vybavený aj výklopným systémom.
My sme však narazili na nevýhodu nízko položeného dna batožinového priestoru Multivanu. Pri štandardných autách typu kombi a podobne by však takýto problém nastať nemal.
Výrobca ponúka okrem samotného nosiča aj rôzne príslušenstvo v podobe montážneho stojanu, alebo extra bezpečnostný zámok, vyvinutý v spolupráci s odborníkmi značky ABUS.
MOC nosiča na tri bicykle Thule Epos 3 je 1 099 €. Nájdete ho na našom
MTBIKER eshope
.
Všetky produkty švédskeho výrobcu Thule v našom eshope nájdete na
tomto odkaze
.
Photo source: archív redakcie
report_problem Did you find a mistake in the text?